Elegant Temptations Bakery – Miami, Florida.
Every bride is unique an so should their wedding cake! Below are some of our favorite creations from the last few wedding cake
seasons along with the folks who worked with us on these incredible South Florida Weddings.

Cristina and Omar
With a stunning view of Miami's downtown from the Epic Hotel's Metropolis ballroom, the bride had to have a cake that matched.
She brought in a photo of the cake she wanted and Vivian Colls topped it with a fresh ball of flowers as well as a bed of fresh flowers surrounding the cake stand.
Our favorite part of this wedding cake was the customized roman numbers which translated to their wedding date. It was definitely a unique way to add a personalized touch!
Alan Phillip Photography definitely captured this event and all its beautiful details flawlessly.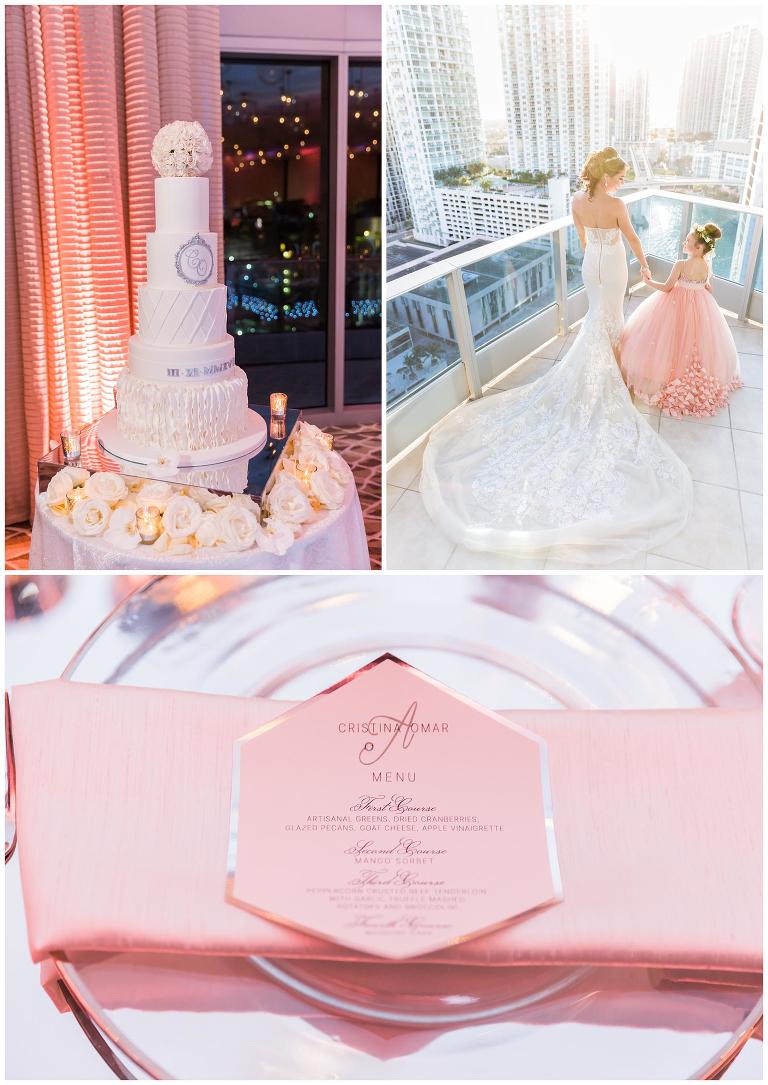 See more of Cristina and Omar's Wedding
Planner: Vivian Colls Events Venue: The Epic Hotel Photos: Alan Phillip Photography Cake: Elegant Temptations

Christine and Julio
A unique love merits a unique cake. Christine and Julio came in and immediately we knew that their cake would turn out to be beautiful, funky and extraordinarily cool.
The bride provided us with their invitation, table décor, cake serving set and even her ring boy pillow! These items went into the thought process as her cake was custom designed.
A 4-tier black cake with black lace appliqué's, gold frame and monogram finished off with a gold encrusted bottom tier which was inspired by a combination of her shoes and other elements.
The cherry on top? The venue, The Cooper Estates, was the perfect setting! Alain Martinez captured the wedding details flawlessly as every detail in the photos took on a life of their own.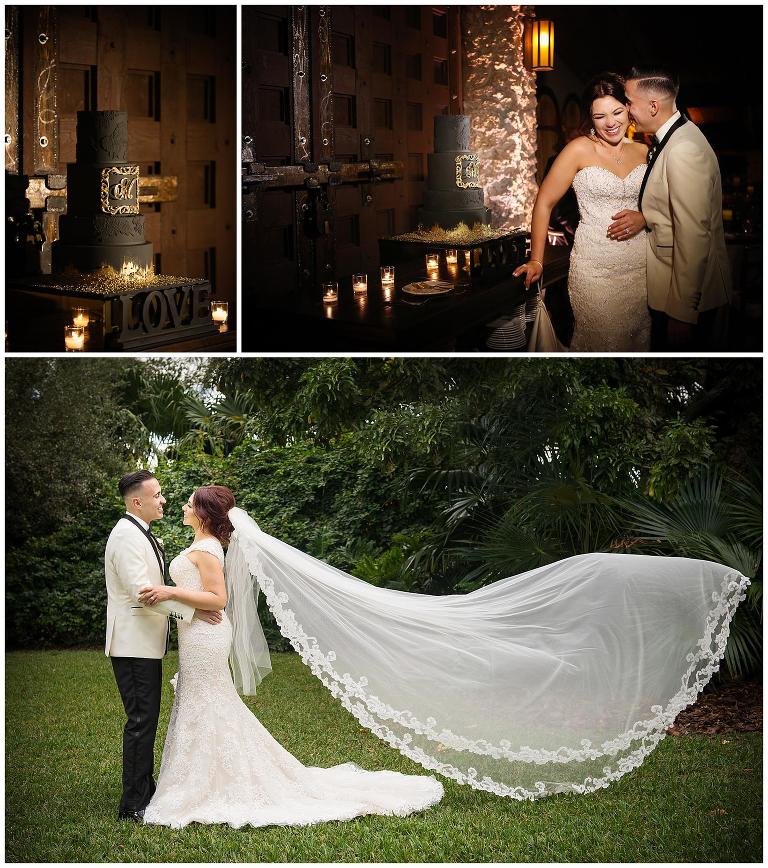 See more of Christine and Julio's Wedding
Venue: The Cooper Estate Photos: Alain Martinez Cake: Elegant Temptations

Cristina and Albert
When a couple as sweet and genuine as Cristina and Albert come in for a cake and dessert table, you just know that things must be kicked up a notch.
It was a gold and white affair with a touch of crystals that only added to the historic charm of the venue, Douglas Entrance. The cake sat pretty on our custom clear acrylic tall stand with dangling crystals.
The dessert table mirrored the cakes beauty with an array of tasty treats such as fruit tarts, key lime tarts, mini flan and chocolate covered Oreos. Love is Sweet!
Once again Alan Phillip was there to photograph this stunning couple and their magical night.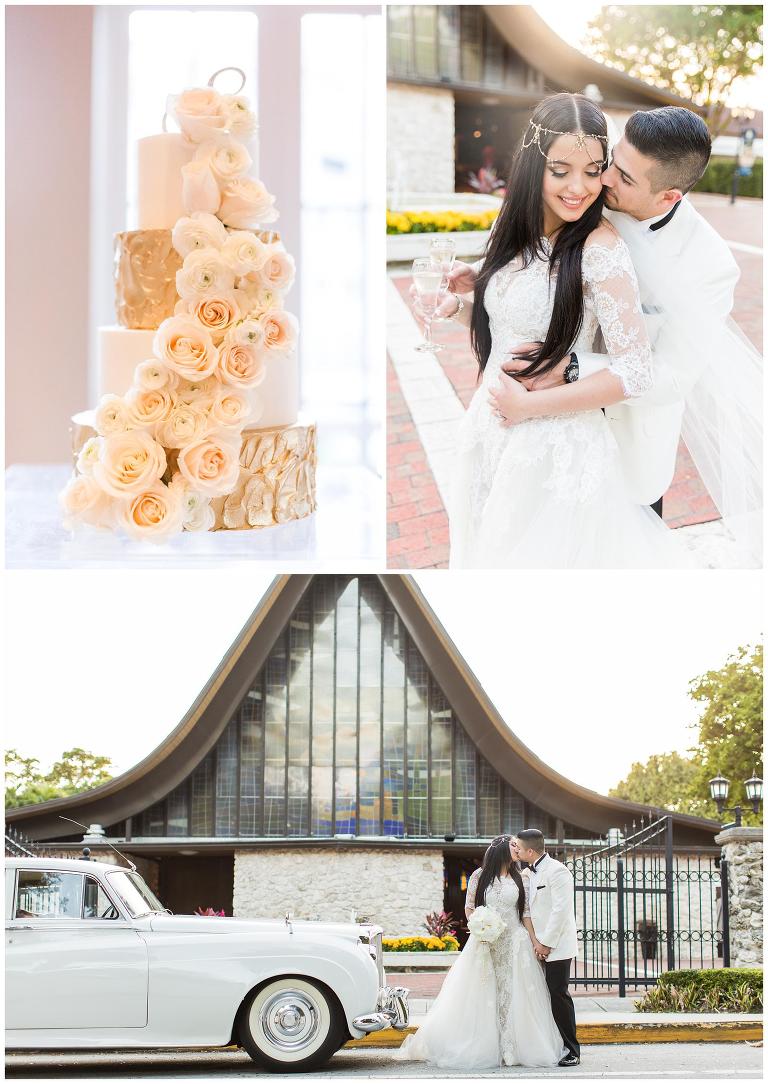 See more of Cristina and Albert's Wedding
Planner: A Fancy Fiesta Venue: The Cooper Estates Photos: Alan Phillip Photography Cake: Elegant Temptations

Greivy and Jonathan
With a venue such as the Trump National in Doral, what more can you expect other than a wedding cake that truly makes a statement. It doesn't always have to be ornate and covered in flowers.
The bride provided an inspiration picture of the design she wanted and we added our ET Cakes touch. With this 5-tier white butter cream beauty, we outlined the way for Petal Productions to
place fresh orchids using a path of gold foil. What was on the inside? Marble cake with fudge filling and our traditional yet not so traditional tasting Vanilla rum cake with vanilla butter cream filling.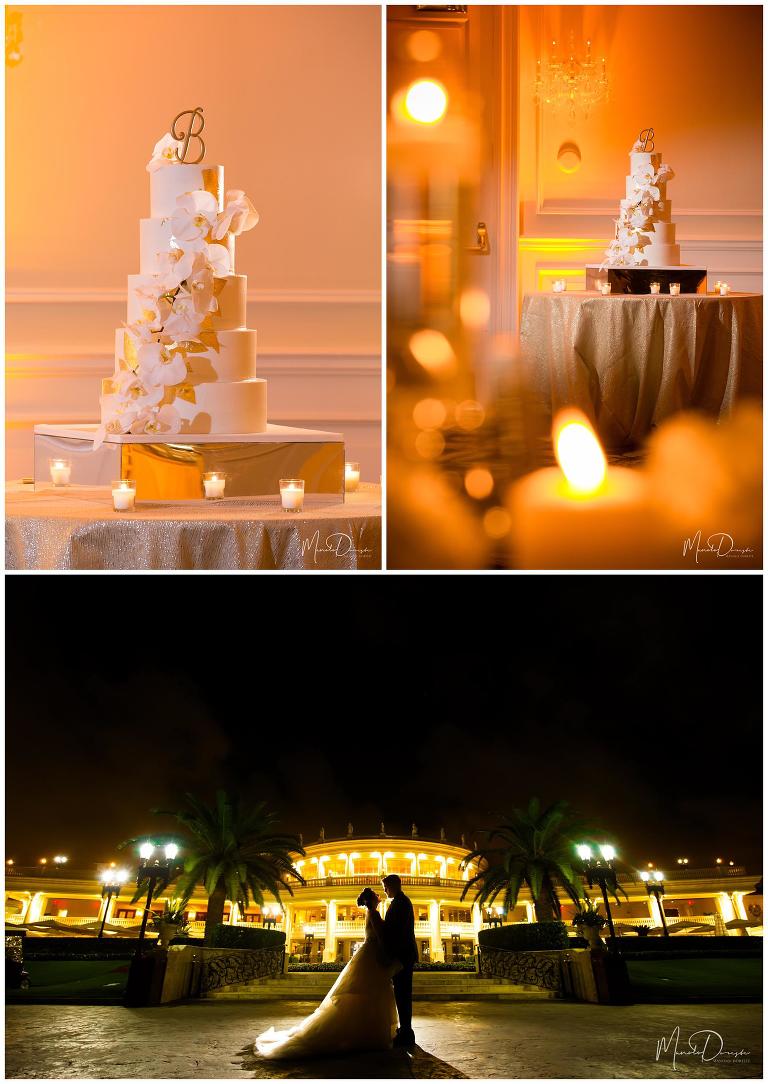 See more of Greivy and Jonathan's Wedding
Planner: The Event Studio Venue: Trump Doral Photos: Manolo Doreste Cake: Elegant Temptations

Vanessa and Juan
Sometimes working with an existing cake design can lead up to creating a new version of that same cake. Whether it's adding a tier, changing the shape of a tier or adding fresh flowers.
For this bride and groom, a little bit of all that happened. With a ballroom like the Coral Grand at the Coral Gables Country Club, you must go big or go home…
Here you not only have a 5-tier cake with sugar veil lace, pearlized effects and a combination of butter cream and fondant tiers,
we also went ahead and added 2 separators so that Vivian Colls and her team could add beautiful blush and ivory roses.
Simply Captivating Photography took some very stunning pictures of the bride and groom and their custom cake!
See more of Vanessa and Juan's Wedding
Planner: Vivian Colls Events Venue: Coral Gables Country Club Photos: Simply Captivating Cake: Elegant Temptations
Contact Elegant Temptations Miami for your custom wedding cake!